HFJ-17 Camera Pipe Inspection Camera For Sale Endoscope Pipe Inspection Camera
Introduction
Main Use and Characteristics
:
360-degree rotary downhole is a system that is specially designed for engineering hydrogeology, observing various anomalies and defects in various observation piles of geological bodies in boreholes, well maintenance, detection of cracks in the borehole wall, misalignment, downfalling, filtration Water pipe hole blockage and flow sand position and so on, and is suitable for oil field, geological frozen hole, geological prospecting, geotechnical engineering, engineering quality inspection and other related industries.
Main Feature:
1. Super high resolution color picture
2. Low light operation
3. Led underwater light
4. Stainless steel housing
5. Military grade water tightness cable
6. Ability to attach up to deep place and stand large pressure of water.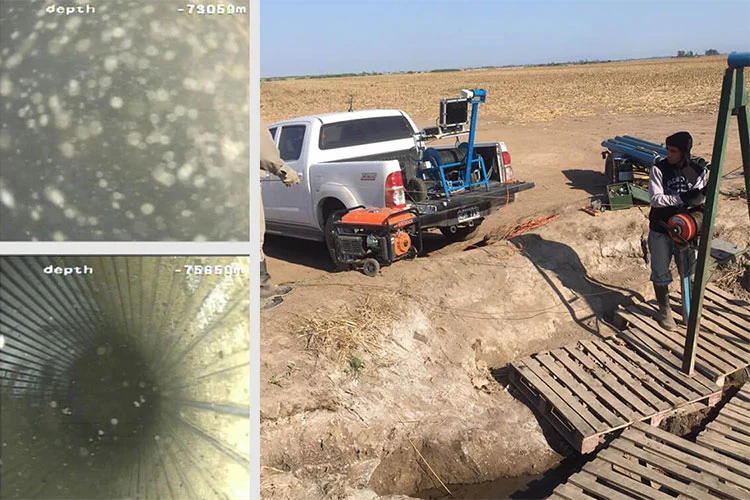 Advantages
1.The main control box adopts 12V direct current, 220V AC as the working power, the whole power consumption is only 20W
2.Lightweight: electric winch with automatic brake device, compact structure, compact size, durable
3.360 degrees rotating probe with stainless steel material, the design is very clever, excellent waterproof performance, high pressure, high temperature
4.stable and reliable: the system uses high-quality devices and curing program module, a large number of components to reduce the use of separation, thereby improving the system stability and reliability
5.360 degrees rotating probe rear 18-24 high-quality, high-power lamp beads, the probe can be based on the surrounding environment, intelligent dimming, LED lights with cold light source, low light quality and other characteristics
6.360 degrees rotating probe with stainless steel material, the camera can be vertical down to observe, can be rotated 360 degrees round, you can stop at any time to observe the details of a certain situation. After the field pressure test, the probe pressure up to 25 MPa, can be dive to the depth of 3000m of water, no water, water seepage, high temperature probe, high quality excellent steel glass, the lens is not easy to break.
100 meters, 200 meters, 300 meters, 500 meters, 600 meters, 800 meters, 1000 meters, 1200 meters, 1500 meters, 2000 meters, the distance between the meters.
(Marked diameter is the rotary probe head diameter 95mm, cover diameter 110mm, rotary probe head diameter 75mm,cover diameter 80mm)
Multi-function master box ride multi-function master box equipped with high-definition 12-inch professional LCD screen (chip for the Taiwan plant), image realistic, high-definition, delicate. The screen can directly display the depth of the probe dive, video expansion port, can be connected to notebook computers, cassette recorders, monitors, operation is very user-oriented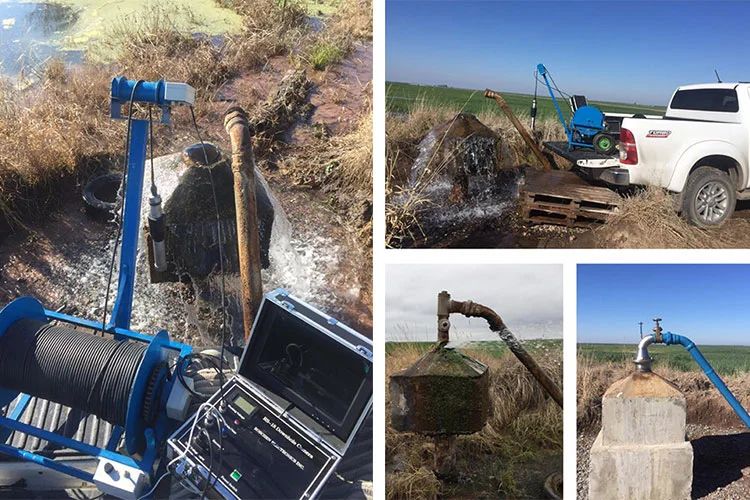 Winch Series:
Automatic cable winch, using the most advanced secondary frequency conversion technology, high-quality RV gearbox stepless speed, winch speed free to adjust. Manual winch light and compact, easy to use. Winches by cable meters count various specifications.
Wellhead pulley for the electronic wellhead pulley, electronic wellhead pulley and the main control box connected to the screen can be directly displayed on the depth.
HFJ-17 300 meters -1500 meters 360 degree rotating downhole TV included:
Cable + electric winch + rotary probe (probe definition 1200 lines, probe diameter 110 mm(cover diameter) or 80 mm cover diameter) + HD color host + electronic wellhead pulley + card type mini video recorder.
If you need logging well in logging, you can also use the thermometer probe. You can also achieve downhole video and temperature at the same time on the host.

Technical Data
1. Underwater probe camera with Sony 1/3 Sony industrial wide dynamic high-speed camera
2. Resolution (horizontal center) 1200 lines (1200TVL)
3. Signal format: PAL
4. Minimum illumination: 0.001LUX / F1.2
5. White horizontal way: automatically open
6. Backlight compensation method: High brightness backlight compensation (HLC)
7. Operating voltage: DC12V ± 5%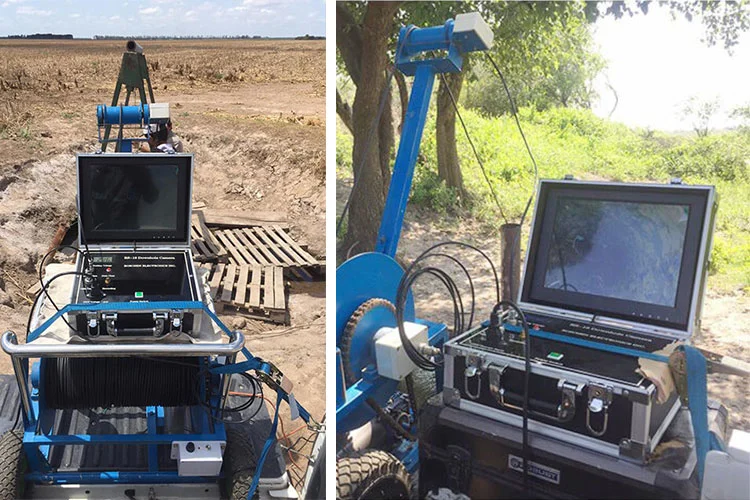 Company Introduction
Hanfa Group established in 1998 is a key enterprise in the industry of geological exploration and water well field, with the ability to research,manufacture and market. Now, the Group pursues high standard manufacturing and qualified products. It has more than 20 species such as water well drilling rig, core drilling rig, engineering drilling rig, DTH drilling rig, horizontaldirectional drilling rig, etc. These machines are mainly used in geological prospecting, exploration of railway and highway engineering, mining, SPT, water well, geothermal well etc. Some of them won the Scientific and Technical Advance Prize or the National Scientific Research Achievement Prize. All the products have passed the quality system certification of ISO9001:2000 and are national inspection-free products.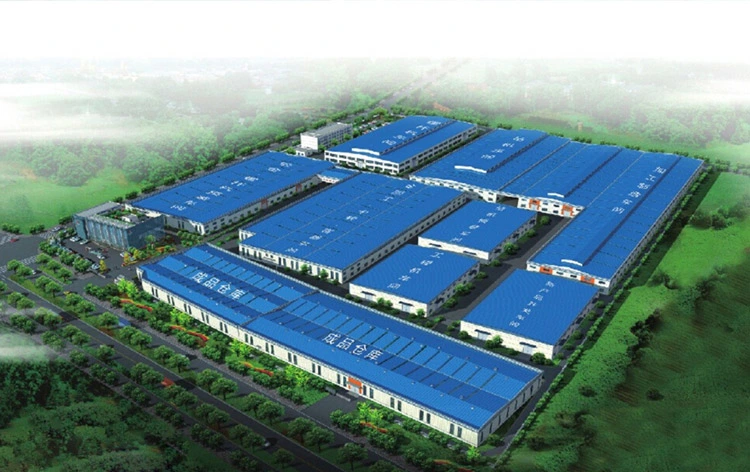 1. More than 30 years of experience
The factory is located in Henan Province, China. We are very welcome to visit our factory. If
you need it, we will arrange a pick-up.
2.Top production team
The transportation and packaging will be packaged in international standards. If you have special packaging requirements, we will give you the most suitable solution.
3.Our Service
- New machine provides technical trair.
- Once anything goes wrong with the machine by normal using, our technical person must appear at the first time no matter where you are.
- When the machine should be maintained, you will receive the reminding from us.
- According to different geological conditions, we will recommend different construction plans for you
- Remind you which are wearing parts, so you can prepare enough.
- 24 hours respond to your quality problem.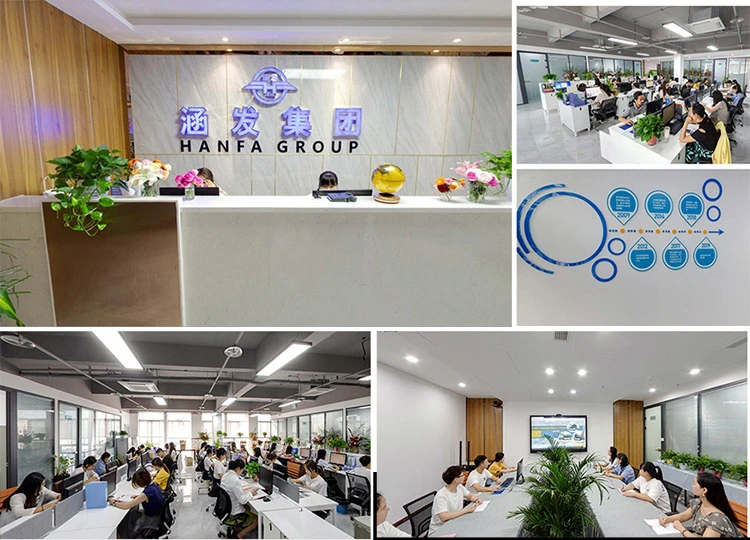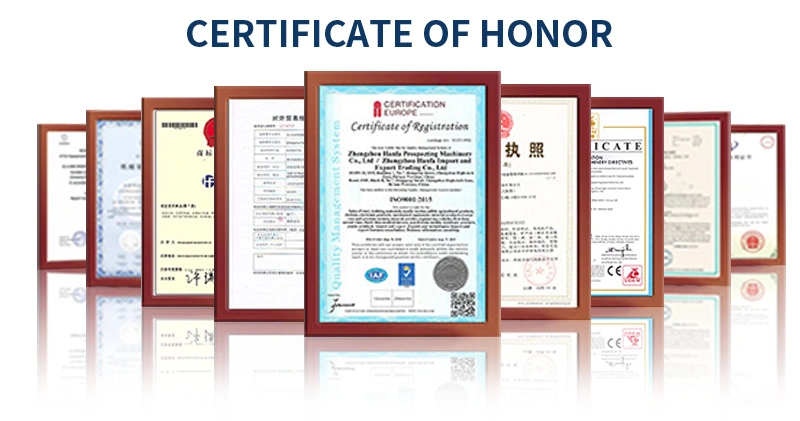 FAQ
1,Are you trading company or manufacturer?
We are professional manufacturer, and our factory mainly produce water well drilling rig, core drilling rig, DTH drilling rig, piling rig, etc. Our products have been exported to more than 50 countries of Asia, South America, Africa, and get a good reputation in the world.
2,Are your products qualified?
Yes, our products all have gained ISO certificate,and we have specialized quality inspection department for checking every machine before leaving our factory.
3,How about your machine quality?
All of our machines hold the ISO, QC and TUV certificate, and each set of machine must pass a great number of strict testing in order to offer the best quality to our customers.
4,Do you have after service?
Yes, we have special service team which will offer you professional guidance. If you need, we can send our engineer to your worksite and provid the training for your staff.
5,What about the qaulity warranty?
We offer one-year quality warranty for machines' main body.
6,How long can you deliver the machine?
Generally, we can deliver the machine in 7 days.
Our Customers